The Collector
May 31, 2019
---
Cars and Trucks Are Among Leading Causes of Death in Humboldt County
A new report on local community health shows that traffic collisions are the most frequent cause of death for people between the ages of 15 and 24 locally, and one of the leading causes for people of all ages. Humboldt's rates of traffic death are far higher than state or national rates – particularly when it comes to drivers hitting pedestrians. Significantly, many of the other leading causes of death are related to physical and social isolation and lack of access to transportation – in part a result of sprawling, unsustainable development patterns. This should be a wake-up call for everyone in this part of the state.
Meeting Planned on Proposed Cutten Subdivision
A major residential subdivision is being proposed on the outskirts of Eureka, and a public scoping workshop (held prior to developing environmental documents) is scheduled for June 13th. Will it be possible for future residents of this area to get around easily without driving? If not, projects like this just shouldn't be built.
Road Planning Workshops Scheduled in Del Norte
The Del Norte Local Transportation Commission has scheduled a public workshop for June 26th as part of its ongoing efforts to redesign Elk Valley Cross Road. The City of Crescent City and Elk Valley Rancheria are also holding a public workshop on June 6th at noon at the Cultural Center (1001 Front St) for input on future Front Street improvements – which could include better bike/ped infrastructure!
Annual Celebration of Pedal Power
The Kinetic Grand Championship was a success again this year. Approaching the Arcata Plaza before the start of the race, bike racks and sign poles were packed with bicycles, and it was clear that spectators as well as participants were taking the opportunity to celebrate active transportation.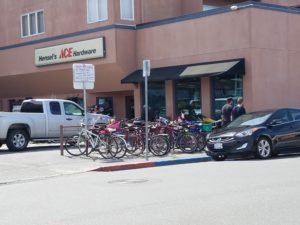 Diesel Emissions Reduction Bill Passes State Senate
Senate Bill 210, which would require the state to develop pilot programs and regulations to reduce emissions from diesel trucks, now moves on to the Assembly.
San Francisco Wants More Rental Bikes
Lyft wants to maintain its monopoly.
China Tariffs Hit Bike Shops
Trump's trade war is hurting people who sell (and buy) bicycles.
---
The Collector is CRTP's weekly transportation news roundup, published every Friday. We focus on North Coast news, but we also include relevant state, national and international transportation news – plus other items that we just find kind of interesting! To submit items for consideration, email colin@transportationpriorities.org.