The Collector
June 14, 2019
---
Another Victory for Opponents of Richardson Grove Highway Expansion
A state court appears to have put another nail in the coffin of the proposed highway expansion through Richardson Grove State Park.
Progress on Countywide Climate Action Plan
The County held a public workshop in McKinleyville this week to talk about the countywide (multi-jurisdictional) Climate Action Plan currently under development. There was a lot of talk about transportation – because it's the source of more than half the county's greenhouse gas emissions. The solutions? Better land use planning and support for alternative transportation and transportation electrification. But a lot of the details haven't yet been filled in. The Board of Supervisors recently formally approved the Plan's development, and another workshop is scheduled for next week in Willow Creek.
Trinidad Hotel Loses Coastal Commission Vote
The rejection isn't binding for the Trinidad Rancheria, which is a sovereign nation, but will likely have an effect on the project. While the Commission focused on issues with the project's water supply, another big issue is the hotel's relationship with a new Highway 101 interchange that the Rancheria also wants to build nearby.
Arcata Planning Commission Discusses Infill Project
Neighbors of the proposed active transportation-oriented affordable housing project in downtown Arcata objected to shading of their properties and…wait for it…parking impacts. City staff and some of the Commissioners pointed out that we're never going to get good infill development if we build lots of parking. The Commission asked the developer (Danco) to come back on June 25th with project modifications.
Environmental Art in Eureka
A street or a sidewalk can function not only for transportation – it can also be a venue for cool public art!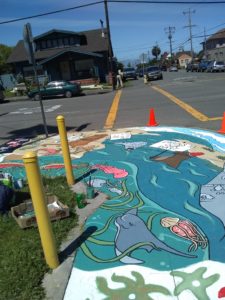 Great Redwood Trail Moves Forward
The state legislature passed a budget this week that includes $10.8 million for the next steps in closing down the North Coast Railroad Authority and preparing for the Great Redwood Trail. Meanwhile, another town hall to talk about the Trail is scheduled for next Saturday (6/22) at 10:30 am in Ukiah.
Hydrogen Ferry Hopes to Make Debut on San Francisco Bay
Will fuel cell ferries be more viable than long-promised fuel cell cars?
New York Protects Bike Lanes During Construction
If you ride a bike regularly, you know that construction projects regularly block bike lanes, and usually don't provide a safe detour. A new law in New York City will change that.
---
The Collector is CRTP's weekly transportation news roundup, published every Friday. We focus on North Coast news, but we also include relevant state, national and international transportation news – plus other items that we just find kind of interesting! To submit items for consideration, email colin@transportationpriorities.org.