The Collector
February 1, 2019
---
Revised Version of "The Village" Unveiled
The new plan is about half community rentals and half "purpose-built" student housing. It has over 600 beds, but significantly less than the 800 originally proposed – and a lot more parking spaces. The new proposal was discussed at a public meeting Wednesday night.
New Downtown Arcata Development Proposal Focuses on Active Transportation
The affordable housing project just a block from the Plaza could include everything from free bus passes to covered bike parking to car share, and could pay for upgrades to bike/ped infrastructure in the surrounding blocks if the developers get the funding they need.
Annie & Mary Trail Connectivity Public Workshop Next Week
The City of Arcata is looking for input Monday on the plan for the section of trail within city limits, which would extend from the Larson Park area to Valley West.
Great Redwood Trail Planning Begins
Trail advocates and stakeholders met in Ukiah Thursday to talk vision and next steps. CRTP was there, of course! Once completed, the Great Redwood Trail will stretch from Marin to Humboldt and be the second-longest trail in the state (after the Pacific Crest Trail).
A Pedestrian Is Just a Person Who's Walking
This article underscores the tragedy of the crash on Highway 101 last week by providing some background on the man who died while walking there. Hopefully, we can move beyond victim-blaming and take action to make this stretch of highway safer for people on foot.
Bike Lane Obstruction of the Week
Getting tired of seeing pictures of parked cars and trucks in the bike lane? We're getting tired of taking them! Send your pictures of bike lane or sidewalk obstructions to colin@transportationpriorities.org.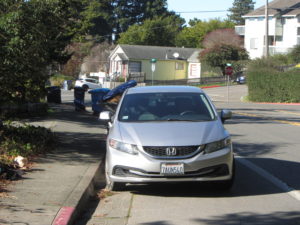 Monday is Transit Equity Day
It's the birthday of Rosa Parks, and a national coalition is agitating for the recognition of public transit as a civil right.
Oslo's Successful (Almost) Car-Free City Center
What do you know? People love a place to walk around without cars!
It's Not Just Millennials – Seniors Want Walkable Communities Too
And they're living together, Golden Girls-style, in order to gain access to them.
TransForm Releases Report on Equitable Congestion Pricing
Want to know how to reap the benefits of congestion pricing without hurting the poor? This report has your answers.
---
The Collector is CRTP's weekly transportation news roundup, published every Friday. We focus on North Coast news, but we also include relevant state, national and international transportation news – plus other items that we just find kind of interesting! To submit items for consideration, email colin@transportationpriorities.org.