Bike Lane Obstruction of the Week
We're debuting a new feature this week: photos of obstructions in local North Coast bike lanes that make it unsafe or impossible for a person riding a bike to use the lane as intended. Submit your photos of bike lane (or sidewalk) obstructions to colin@tranportationpriorities.org! First up (drumroll, please)… a recycling receptacle in Arcata!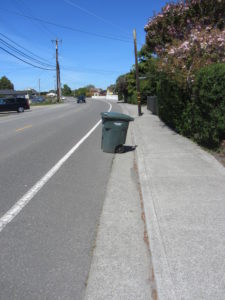 Visitor Returning to Southern Humboldt Shocked by Road Conditions
Is it possible to maintain all rural roads in working condition, given the small number of users and low tax base?
Arcata Planning Commission Recommends Denial of The Village
With one vacancy, one member recused, and one member absent for personal reasons, a bare quorum of four Commissioners failed on a 2-2 vote to recommend approval of the project. According to Community Development Director David Loya, a tie vote in this situation is considered a recommendation for denial. If the City Council approves the project anyway, it will be the biggest private housing development in Arcata's history, housing 700-800 mostly HSU students. If the project is denied, the city will have to work a lot harder to figure out how to approve new dense infill development, or it will not meet its ambitious goals for bicycle and pedestrian mode share.
More Bike Month Events!
Coming up this week: Ride to the Mad River Grange for a pancake breakfast on Sunday, Arcata Transportation Safety Committee meeting on Tuesday, and Eureka bike-to-work day on Thursday.
California Transportation Commission to Decide on Some Local Issues
A number of Humboldt County projects are scheduled to come before the state body at its meeting next Wednesday and Thursday in San Diego. Topics of note include: transferring money not spent on the Eureka waterfront trail to the Waterfront Drive connection project; funds for adding car and bike lanes to 4th Street in Eureka; about half a million each for realigning the ramp curve at the Highway 101/299 interchange in Arcata and for non-infrastructure Safe Routes to School projects in Fortuna and McKinleyville; and more money for fixing storm-damaged rural roads.
Advocates Ask Gubernatorial Candidates About Transportation Issues
Early and absentee voting has already started for the June primary.
Bike-to-Work Day Brings Out Political Heavy Hitters in San Francisco
How do North Coast elected officials and candidates measure up in their commitment to non-motorized transportation?
Bigger Cars, Not Distracted Walking, Causing Rise in Pedestrian Fatalities
Enough blaming the victims!
Global Tourism Emissions Soaring
A new study shows that air travel has pushed global greenhouse gas emissions from tourism to 8% of total emissions, a much higher fraction than previously thought. We wonder what contribution cruise ships make to global tourism emissions.
The Collector is CRTP's weekly transportation news roundup, published every Friday. We focus on North Coast news, but we also include relevant state, national and international transportation news – plus other items that we just find kind of interesting! To submit items for consideration, email colin@transportationpriorities.org.