The Collector
September 21, 2018
---
Bike Lane Obstruction of the Week
This week, a two-for-one obstruction: Low-hanging branches ready to knock an unsuspecting rider off a bike, right next to a row of cars blocking the lane! Send your photos of bike lane or sidewalk obstructions to colin@transportationpriorities.org.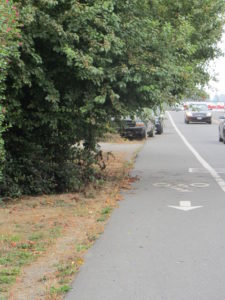 Sign the Petition for a More Pedestrian-Friendly Plaza!
If you haven't already signed it, that is.
Arcata Transportation Safety Committee Talks Plaza Bike Racks…
The Committee, chaired by CRTP's own Ryan Campbell, discussed the need for additional racks around the Plaza. Here's the situation on a recent farmers market day: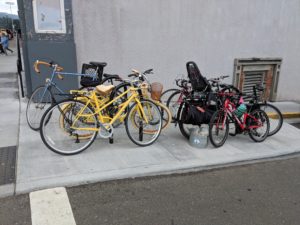 …and E-Bikes, Too!
The Arcata TSC talked e-bikes and speed limits at their meeting this week, too. CRTP's Colin Fiske was also on KHUM to talk about it on Wednesday.
Eureka Planning Commission to Consider New General Plan
The Commission holds a special meeting on Monday (September 24) at 5:30 pm. You can read CRTP's previously submitted comments here.
New Group to Sponsor Public Meeting on Trinidad Development
The newly formed Humboldt Alliance for Responsible Planning will hold a public informational meeting on Thursday, September 27, from 6-9 pm at the Trinidad Town Hall to discuss the Trinidad Rancheria's plans to build a 100-room hotel… and a new interchange on Highway 101 less than a mile from the existing Trinidad exit. The just-released Environmental Assessment for the hotel project can be found at the link above.
Annual Unmet Transit Needs Hearing Start Next Week
Let local officials know what improvements the local bus system needs.
The Skunk Train and the Revitalization of Fort Bragg
Could extending and fixing the tourist train finally spur redevelopment of the town's coastline?
Should Helmets Be Mandatory for Drivers?
After all, as the author of this article points out, many more people get head injuries in cars than on bikes.
A Spanish City Completely Removes Cars from the City Center
And people love it!
---
The Collector is CRTP's weekly transportation news roundup, published every Friday. We focus on North Coast news, but we also include relevant state, national and international transportation news – plus other items that we just find kind of interesting! To submit items for consideration, email colin@transportationpriorities.org.