The Collector



March 26, 2021
---
Wanted: Bigfoot Costume
CRTP is looking for a Bigfoot/Sasquatch costume. We can't reveal its use yet, but we think you'll like it. If you have a costume you'd like to donate or buy for us, get in touch: colin@transportationpriorities.org.
Another Pedestrian Hit-and-Run in Eureka
The horrifying crash was captured on a security camera. Thankfully, the victim was not severely injured.
McKinleyville Residents Want a Walkable Town Center
Once again, that was the dominant theme to emerge from this week's special McKinleyville Municipal Advisory Committee meeting.
Arcata Council Not So Transportation-Focused?
At its goal-setting meeting this week, the City Council prioritized many worthy objectives and projects. But transportation issues were barely mentioned, except to say that they should be considered when approving new development projects.
Bay-to-Zoo Trail Environmental Documents Released
Comments are being accepted through April 28th.
Out-of-Area Group Objects to Great Redwood Trail Railbanking
Um, who are these people, and why are they trying to get in the way of our trails?
---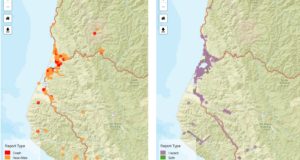 Make your Street Story reports!
Local residents have reported 745 reports (and counting) on Street Story. La versión en español está disponible aquí. CRTP uses reports to advocate for change, and local agencies use them to apply for grants and prioritize improvements. Your reports are important!
---
California's Getting $900 Million More for Transportation
The money comes from the federal COVID relief bill, and this week the California Transportation Commission (CTC) voted on how to divide the money among existing programs. Now the real decisions will be made: what exactly will get built with this money?
Transportation Advocate Appointed to State Transportation Commission
Speaking of the CTC, Governor Newsom just appointed Darnell Grisby to the Commission. Grisby is Executive Director of TransForm, a progressive Bay Area transportation advocacy group. This marks a major shift in appointments to the CTC, which has traditionally been dominated by conservative highway-loving developers and builders. But don't get too excited – at the same time, Newsom also reappointed Joe Tavaglione, a conservative highway-loving developer.
Bike "Safety Stop" Bill Approved by Transportation Committee
There are many more votes ahead.
California's Diesel Rules Are Saving Lives
A lot of them.
But Where Will All the Lithium Come From?
Electric vehicles need batteries. Those batteries need lithium. And lithium mining – like most mining – is not a pretty business.
---
The Collector is CRTP's weekly transportation news roundup, published every Friday. We focus on North Coast news, but we also include relevant state, national and international transportation news – plus other items that we just find kind of interesting! To submit items for consideration, email colin@transportationpriorities.org.