The Collector
February 8, 2019
---
McGuire Named 2018 Responsible Transportation Champion for North Coast
CRTP is inaugurating an annual Responsible Transportation Champion award, and the first one has been given to State Senator Mike McGuire for his work to make the Great Redwood Trail a reality.
Arcata Council Keeps The Village Alive
Councilmembers voted unanimously to consider the revised plans for The Village housing project. (Readers will recall that they rejected the previous plan on a tied vote several months ago.) CRTP encouraged the Council to approve the project – but with less parking.
The Story of Parking in Arcata
CRTP Executive Director Colin Fiske was interviewed by North Coast News TV about the parking situation in Arcata.
County Continues Public Outreach Zoning Blitz
One community meeting after another is planned this month as Humboldt County officials seek public comment on proposed zoning changes to implement the new General Plan. Among other things, CRTP is advocating for changes to make the new "mixed use" zones, meant for existing community center areas, denser and more pedestrian friendly.
Don't Blame the Pedestrian
A letter from CRTP Board member Tom Wheeler highlights the problems with pedestrian safety on Highway 101 – and with how we think and talk about collisions that kill people who aren't in a car.
Arcata Gets Input on Trail Proposal
Arcata officials asked for public input this week on a proposed stretch of trail which would someday run through Arcata, connecting the Humboldt Bay Trail with the Annie & Mary Trail to Blue Lake. One of the top recommendations of participants: give trail users the right-of-way at intersections.
Committee Considers Bike App, Transit Modeling, and VMT Training
The Humboldt County Association of Government's Technical Advisory Committee met this week, and on the agenda was deciding how to spend a small budgetary surplus. Options included the development of a local bike map app, adapting modeling software to allow local agencies to better predict bus ridership, and training local decision makers on the state-mandated switch from congestion to vehicle miles traveled when assessing transportation impacts under the California Environmental Quality Act. They went with the bike app and the transit modeling.
The Disappearing Crosswalk to Nowhere
This week, we feature a combination of two common scenes on the North Coast: an unmaintained crosswalk, and one that ends in a spot with no pedestrian infrastructure. Send your pictures of bike lane or sidewalk obstructions to colin@transportationpriorities.org.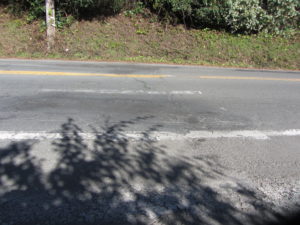 "This is the new face of climate change denialism"
The new multi-billion dollar highway tunnel in Seattle is meant to replace a damaged and ugly surface freeway. But why didn't officials simply remove the freeway and not replace it, as many other cities have successfully done?
Are Uber and Lyft Eating Away at Bike Trips Along with Transit?
San Francisco is discovering that accomplishing mode shift is not as simple as "complete streets" that (sort of) accommodate everybody. We're going to have to take steps to reign in driving – including driving by on-demand services like Uber and Lyft – if we want to see a real and permanent change.
---
The Collector is CRTP's weekly transportation news roundup, published every Friday. We focus on North Coast news, but we also include relevant state, national and international transportation news – plus other items that we just find kind of interesting! To submit items for consideration, email colin@transportationpriorities.org.