The Collector
January 24, 2020
---
Trinidad to Return Trail Money After Strong Objections
After a contentious City Council meeting, the city is abandoning its already-funded project to build a trail and other improvements to bicycle and pedestrian access to the Trinidad Head area. The concern is that the project could disturb native Tsurai graves and other culturally important sites. We fully support protection of sacred native sites, and we also want people to be able to walk to Trinidad Head and its beaches without taking their lives in their hands. Hopefully a solution can be found.
McKinleyville Town Center May Get Mixed-Use, Form-Based Code
At a meeting this week, the McKinleyville Muncipal Advisory Committee gave its blessing to applying a single mixed-use zone to the entire Town Center area and appeared poised to adopt a form-based code for that zone in the future. This would be a radical departure from the county's past zoning practices, and one that – if the code is well-written and well implemented – could allow McKinleyville to develop a truly walkable and appealing town center.
County Supervisor Candidates Will Be Asked a Transportation Question at Forum
We know, because we'll be asking it. Want to hear the question – and their answers? Come out to College of the Redwoods on Wednesday evening – or the Mateel, where it'll be simulcast – and you will.
More Money for Trucks?
Next week, the Del Norte Local Transportation Commission's Technical Advisory Committee will consider whether to fund more "actions to support" the plan to widen and straighten sections of Highways 199 and 197 to accommodate larger trucks. This project has been mired in litigation for years, so it's somewhat unclear what "actions" staff has in mind. Also on the agenda: more money for redesigning the proposed Sunset Circle active transportation improvements.
Humboldt County Urbanism
CRTP's own Colin Fiske appeared on the new EcoNews Report on KHUM this week to talk about how the principles and practice of urbanism apply to our local area.
Arcata City Hall Gets Bike League Recognition
It was given Bike-Friendly Business recognition at the Bronze level. It's not gold, but at least they're on the podium!
Weekly Street Story Update: Roundabouts
A report from the Indianola/Old Arcata Road roundabout: "Vehicles do not yield to cyclists in roundabouts, a chronic ongoing danger for all cyclists." (We can vouch for that, too.) You can make your own Street Story report here.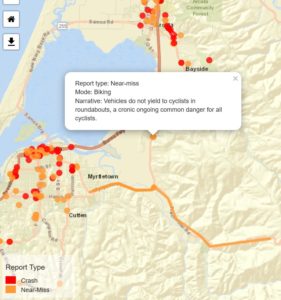 San Francisco's Car-Free Market Street Starts Next Week
It's a landmark achievement akin to New York's pedestrianization of Times Square.
Can Suburban Homes Be Built Without Parking?
One developer wants to give it a try in Hayward.
The Nation's Most Dangerous City for Pedestrians Is Making Some Changes
It's Orlando. Trip to Disney World, anybody?
---
The Collector is CRTP's weekly transportation news roundup, published every Friday. We focus on North Coast news, but we also include relevant state, national and international transportation news – plus other items that we just find kind of interesting! To submit items for consideration, email colin@transportationpriorities.org.