The Collector
May 17, 2019
---
Climate Action Plan Workshop on Monday
Arcata will host the next workshop in a series to gather public input for the Humboldt county-wide multi-jurisdictional Climate Action Plan which is under development. If you're free, show up and remind them that driving less is the single most important thing we can do to lower greenhouse gas emissions!
Eureka Looks to Allow Pedi-Cabs…with Booze!
On next week's City Council agenda are amendments to the municipal code to allow "pedal pubs" under certain conditions. This type of multi-person, pedal-powered, alcohol-serving vehicular business was legalized statewide in 2015. Also on the agenda: Awarding a contract for Waterfront Drive construction. Meanwhile, this week, the Council passed a major zoning code overhaul containing significant incentives for pedestrian-oriented infill development.
County Zoning Map Update Workshops Scheduled
The Humboldt County Planning & Building Department has scheduled a series of public workshops around the county to take comments and answer questions about proposed changes to the county zoning map, meant to implement the 2017 General Plan Update.
More Car-Culture Restaurants to Open on Broadway This Year
Fast food burger and pizza joints are moving through the development process.
Is Parking the Problem, or Is It Cars?
Another day, another complaint about supposedly inadequate parking for a business in Arcata. We say, as we always do: If you don't think there's enough parking, make sure people don't have to drive cars.
Public Input
A cogent and compelling commentary from North Coast Journal editor Thaddeus Greenson about local squabbles over the location of Coastal Commission hearings on two major transportation-related projects.
Sidewalk Obstruction of the Week
The obstruction of the week feature is back today, thanks to this gem submitted by a loyal reader of The Collector. If you have a picture or other item you'd like featured in The Collector, email Colin at colin@transportationpriorities.org.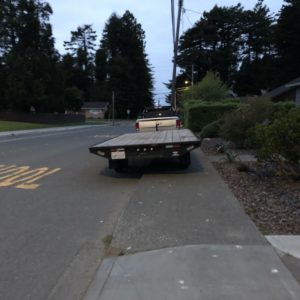 Infrastructure Week
It's Infrastructure Week, according to people who want massive amounts of spending on infrastructure. There's no question that much of our infrastructure needs to be seriously overhauled. But should we really still be handing out money for highway expansions – especially when we can't afford to maintain what we already have?
Can Seniors Get Around Without Cars?
Many older Americans can't or don't want to drive. But the country's few truly walkable communities are often too expensive for a senior on a fixed income. Isolation and declining health are common outcomes. Our aging population comes face to face with some of the problems of sprawling, car-oriented development.
Ford E-bikes Back in the Bay
Apparently the brake problems that caused them to be temporarily recalled have been addressed.
---
The Collector is CRTP's weekly transportation news roundup, published every Friday. We focus on North Coast news, but we also include relevant state, national and international transportation news – plus other items that we just find kind of interesting! To submit items for consideration, email colin@transportationpriorities.org.