The Collector
May 10, 2019
---
CRTP to Host Free Training on Bike/Ped Safety Tool
A representative of SafeTREC at UC Berkeley will be coming to Humboldt County on May 29th to do a training on one of their new tools. It's called Street Story, and it's designed to crowd-source data on where bicyclists and pedestrians feel safe or unsafe and why, and where they've had collisions or near-misses. If you're a local transportation advocate or professional and want to learn how to use the tool, email colin@transportationpriorities.org to RSVP and for more information.
Richardson Grove Highway Expansion Project Dealt A Major Blow
A federal judge ruled that Caltrans had not met its obligations to thoroughly review the project's environmental impacts. CRTP has opposed this project since our founding four years ago. We don't think the state should spend be spending our tax dollars to redesign roads for the largest fossil-fuel powered vehicles, particularly at the risk of damaging ancient redwoods in a state park. This is the latest in a series of legal victories for project opponents. Could it be the final one?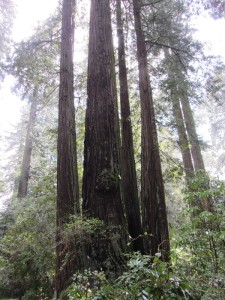 Safety Corridor Hearing Might Be in Eureka in August…
Instead of San Diego in June, as Caltrans had requested. CRTP submitted a joint letter with Humboldt Baykeeper asking for the Coastal Commission hearing to be delayed to allow for local input. CRTP's concerns include bike/pedestrian access at the Bayside cutoff and the plan's (lack of) adaptation for sea level rise. Caltrans had insisted that the project would lose its funding if not heard in June. However, after the Commission unanimously requested that it be moved to the local August meeting, Caltrans changed its tune and said that would probably be fine. Meanwhile, the Humboldt County Board of Supervisors failed to approve a request that the Commission also delay the scheduled June consideration of Trinidad Rancheria's hotel proposal – which is tied to a controversial interchange project on Highway 101.
Caltrans 4th Street Project to Exercise Eminent Domain
Next week's California Transportation Commission agenda includes a resolution to use eminent domain to take a small portion of the Red Lion Hotel property at 4th and V Streets in Eureka. Those of you following along at home will remember that this project includes bulb-outs and crosswalk upgrades, but also adds an additional lane of travel on 4th Street – negating the effect of the pedestrian improvements and causing CRTP to oppose it.
Funding for Blue Lake Bike/Ped Upgrades on the Agenda
Also on the CTC's agenda is a proposal to fund new bike lanes, sidewalks, ADA improvements, and traffic-calming features on Greenwood, Railroad, and Hatchery Roads in Blue Lake. And deadline extensions to the City of Eureka for awarding a construction contract for the "Waterfront Drive Connection" project, to Crescent City for the Sunset Circle Multi-Use Trail project, and to the Hoopa Valley Tribe for its Safe Routes to School project.
Eureka City Council to Consider New Zoning Code
On Monday, the Council will hold a hearing on the proposed new code, which happens to contain lots of interesting incentives for pedestrian-oriented infill development and reduced parking requirements.
Planning Commission to Discuss New Housing Element
Humboldt County continues its Housing Element update process.
Trails Summit a Success
Rees Hughes has a great summary in the Times-Standard. Bike Month continues this week with Eureka Bike-to-Work Day and Bike-Friendly Business Happy Hour/Shopping Spree, an Arcata Family Bike Rodeo, a Historic Blue Lake Ride, and more!
Bike/Ped Safety Operation Planned for Eureka
We're all about improving bike and pedestrian safety in Eureka. But there's a definite under-current of blaming the victim here.
Uber's IPO Reveals Competition with Transit
Paperwork filed by the massive company called out a goal to "replace" both private car trips and public transit. New research suggests that it's already doing that. Meanwhile, miraculously, bus ridership is growing in San Francisco!
What's Next for Trump's Fuel Efficiency Roll-Back?
An insightful analysis from Streetsblog on the many implications for the state of California.
Co-working on the Street
Real estate is expensive. Parking is cheap. But wait: parking is real estate!
What City Has the Best New Complete Streets Policy in the Nation?
According to Smart Growth America, it's Cleveland Heights, Ohio.
---
The Collector is CRTP's weekly transportation news roundup, published every Friday. We focus on North Coast news, but we also include relevant state, national and international transportation news – plus other items that we just find kind of interesting! To submit items for consideration, email colin@transportationpriorities.org.