The Collector
February 22, 2019
---
Caltrans to Host Public Meeting on Eureka Projects
Next Thursday at 5:30 pm at the Wharfinger building, local Caltrans staff will tell the public about a number of projects currently planned or under way along Highway 101 in Eureka – including a proposal to continue the 4th-5th Street one-way couplet through the Balloon Track to a newly one-way Broadway and Koster couplet. It's the latest in a long line of Caltrans ideas for moving traffic faster through Eureka.
Plaza Task Force Talks About How to Judge Changes
The City Council's Plaza Improvement Task Force didn't make a final decision at its meeting last night about which criteria it will use to assess proposed changes to the Plaza. But at CRTP's suggestion, they did add another potential criterion to the list: considering the comfort and safety of the Plaza's most vulnerable users, including people on foot, bicycle, and assisted mobility device.
HCAOG Board Takes on Annual Work Plan
Among the items in the plan for the Humboldt County Association of Governments are funding for development of local transit ridership projection software and an online bike map app.
Bike Lane Obstruction of the Week
A sign warning motorists about the presence of workers in the right-of-way blocks the bike lane and sends bicyclists into the car lanes. No workers were actually present at the time this picture was taken. Send your pictures of bike lane or sidewalk obstructions to colin@transportationpriorities.org.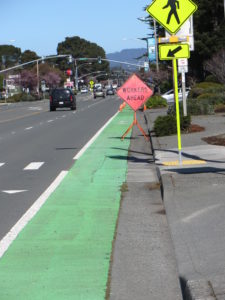 Trump Administration Quits California Fuel Economy Talks
The state's decades-old right to set stricter vehicle mileage standards than the federal government is under threat by the administration, which is trying to roll back federal standards as well. Transportation is already the nation's largest source of greenhouse gas emissions, and growing. The global climate could hang in the balance.
The Green New Deal is Missing Something
There's almost no mention of transportation and land use.
Mobility-on-Demand Meets Public Transit
A new type of company aims to be a sort of hybrid between traditional transit and modern app-based ride-hailing services. The jury's still out on the long term impacts.
---
The Collector is CRTP's weekly transportation news roundup, published every Friday. We focus on North Coast news, but we also include relevant state, national and international transportation news – plus other items that we just find kind of interesting! To submit items for consideration, email colin@transportationpriorities.org.