The Collector



September 8, 2023
---
Special Meeting on McKinleyville Town Center Next Week
The McKinleyville Municipal Advisory Committee has been reviewing Town Center plans for years, and it's hard to predict what will happen at next Wednesday's meeting. But the committee seems to be close to completing its review, and a vote on the Town Center ordinance could come at this meeting.
We're glad to report that support has been growing on the committee for two of CRTP's main priorities for the Town Center: (1) eliminating costly and unscientific parking mandates; (2) reducing the width of Central Avenue and redesigning it for bike and pedestrian safety. If you'd like to support these priorities, you can find out more about attending the meeting or submitting your email comment here.
$30 Million Awarded for Housing & Transportation Improvements in Eureka!
The City of Eureka and non-profit affordable housing developer Linc Housing have won a major state grant to construct three buildings of affordable housing in downtown Eureka, as well as funding major bike, pedestrian and public transit improvements. The city first approved these projects back in 2020, and this funding brings them a big step closer to reality. This is a moment to celebrate!
Unfortunately, after we celebrate, we have to go back to fighting the Rob Arkley-funded lawsuits and ballot measure that are trying to block this exact project, along with many other needed downtown housing and transportation projects like the EaRTH Center. This new grant award means that, among many other negative impacts, the ballot measure would put at risk at least $70 million in already awarded state investments in downtown Eureka housing and transportation improvements.
Driver Hits Cal Poly Student on Campus, Leading to Critical Injuries
Madelyn Vink is currently in intensive care in Santa Rosa, and our thoughts are with her and with her family and friends. We are also thinking about what kind of campus street design could have allowed such an awful collision to happen in a location that is almost always full of people walking, biking and rolling. We hope that the university administration takes this moment to study what happened, and to redesign campus streets to ensure nothing like it ever happens again.
---
Eureka Makes It Official: October 2-8 Is the Week Without Driving
This week, the Eureka City Council issued a Proclamation recognizing October 2-8, 2023 as the Week Without Driving, and several city officials have taken the pledge to participate. This is an important opportunity for decision-makers to get first-hand insights into what it's like to live in our communities for the many people who can't drive because of age, disability, income or other reasons. If you're an elected official, community leader, planner, or other transportation decision-maker who hasn't already taken the pledge, please sign up today.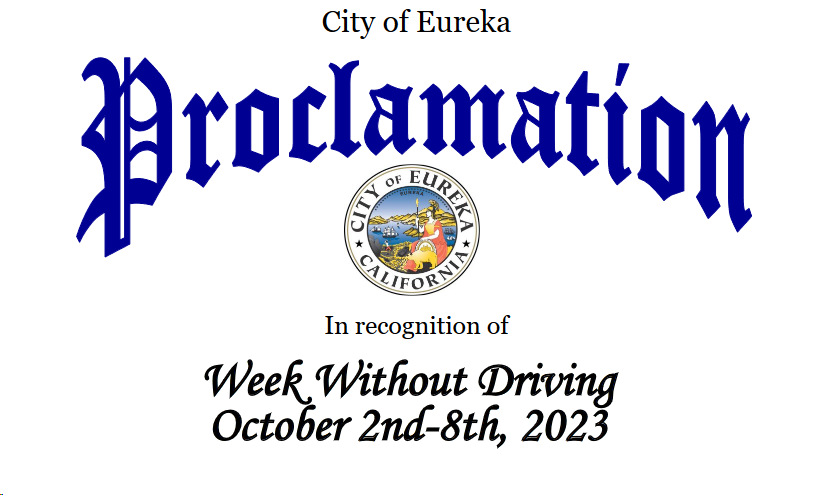 ---
Street Story: A Simple Way to Contribute to the Fight for Safe Streets
Reports on Street Story only take a few minutes, and they give CRTP and local government agencies better information about the need for safety improvements. So don't forget to make a report every time you experience a near-miss, a crash, or a hazardous location. La versión de Street Story en español está disponible aquí.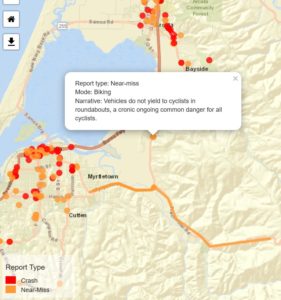 ---
News from Beyond the North Coast
Transportation Bills Getting to the Finish Line in Sacramento
With the legislative session nearing an end, a number of important bills appear headed to the governor's desk. These include an intersection "daylighting" bill that would ban parking near crosswalks to improve pedestrian visibility, a bill to allow bike riding on sidewalks where there isn't safe bike infrastructure, and a bill to require landlords to charge separately for housing and parking (so people without cars aren't forced to subsidize parking spaces).
Is an Unprotected, Painted Bike Lane More Dangerous Than No Bike Lane At All?
A new study adds to the evidence that busy streets require physically protected bike lanes and good intersection design to be truly safe.
---
The Collector is CRTP's weekly transportation news roundup, published every Friday. We focus on North Coast news, but we also include relevant state, national and international transportation news – plus other items that we just find kind of interesting! To submit items for consideration, email colin@transportationpriorities.org.