The Collector
February 21, 2020
---
Town Center Land Use & Design on the Agenda
At next Wednesday's McKinleyville Municipal Advisory Committee meeting, the Committee will take on topics of "Land Use/Zoning, Streetscape and Design" for the proposed Town Center. Transportation has been pushed to the next meeting – but when you put them all together, land use, streetscape and design pretty much add up to transportation anyway, so you can bet CRTP will be there! Meanwhile, the Town Center planning process is causing many to re-consider the old idea of cityhood for McKinleyville.
Arcata City Council to Rank Plaza Recommendations
On Wednesday, the Council received the final report from its Plaza Improvement Task Force. Discussion at the meeting seemed to indicate general support for the bike and pedestrian improvements recommended by the Task Force. Councilmember Susan Ornelas was the lone Councilmember to discuss street closures in any detail, suggesting pedestrianization of 9th Street as part of a package of other changes on and off the Plaza. Now, Councilmembers will rank the recommendations (and possibly some of their own ideas) and take up the topics again at a future meeting for official prioritization. Meanwhile, a somewhat factually flawed article in the Times-Standard highlighted many of the proposals CRTP has made for the Plaza over the last 3 years.
Stop Signs to Make You Stop and Think
The Stop&Sign project invites the public to join in an event of the 4th Annual Womxn's Festival Art Installation on Feb., 29th at 12 p.m. on the Arcata Plaza called Stop&Sign.  For this project community members will hold hand made stop-signs at four-ways around the Plaza to interact with the public.  So far, community members have made signs that address everything from love to hate. Sign making workshops are held at the Sanctuary's (1301 J St.) Taco Tuesday from 6:30-7:30 P.M. & at the Arcata Playhouse (1251 9th St.) from 3-6 P.M.
Disturbing Vehicular Violence in Ukiah
A person driving a car intentionally ran over a person on a bicycle with whom they were arguing. This is a tragic reminder that cars are deadly weapons, and we can't let their ubiquity in our landscapes blind us to the dangers they pose.
Friends Raise Money for Bicyclist Hit By Driver
After a collision with a vehicle in Arcata, the bicyclist is seriously injured.
Caltrans Eureka-Arcata Corridor Wetland Mitigation Approved
But as with the project itself, the mitigation doesn't seem to have taken much account of sea level rise.
Weekly Street Story Update: Stroller on the Shoulder
This report from McKinleyville demonstrates what can happen when there aren't sidewalks where people need to walk: "I was walking on shoulder of road, with a double stroller. A large truck moving hay came around the corner too fast and went over the white line. It zoomed past me, missing my children and me." You can make your own Street Story report here.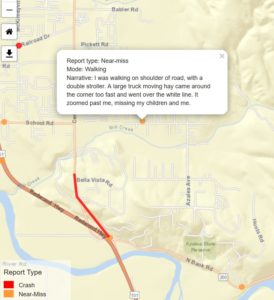 How Do You Get More Money for Bike Projects?
Make sure you have decision-makers who don't see everything through the windshield of a car.
San Francisco Mayor Looks to Proven Cures for Congestion
No, not road widening – that doesn't work! Instead, she's proposing congestion pricing and less free parking – hey, those do work!
LA May Pedestrianize Broadway
Now that San Francisco removed cars from Market Street, anything is possible!
Planning a New Mega-City from Scratch in Indonesia
Will they take the opportunity to make it plan for people and nature instead of cars?
---
The Collector is CRTP's weekly transportation news roundup, published every Friday. We focus on North Coast news, but we also include relevant state, national and international transportation news – plus other items that we just find kind of interesting! To submit items for consideration, email colin@transportationpriorities.org.