The Collector



March 12, 2021
---
Monday: Vehicle-Pedestrian Crashes and the Media
CRTP is sponsoring a talk and Q&A session on Monday by Dr. Kelcie Ralph of Rutgers University. Dr. Ralph talk on Vehicle-Pedestrian Crashes and the Media is targeted at people working in the media, law enforcement, and related fields. If you or someone you know is a reporter, editor or law enforcement official interested in this event, use the link above to register.
Board Will Weigh in on Humboldt Regional Transportation Plan Update
The Humboldt County Association of Governments will get an update next Thursday and weigh in on draft greenhouse gas and driving reduction goals developed by an ad hoc committee. CRTP participated in developing the goals, which are appropriately ambitious!
Last Chance for Our Survey
We extended the deadline to give everyone extra time to fill out CRTP's survey on local transportation attitudes. But the survey officially closes on Monday, so if you haven't filled it out, do it now! Spanish-language version here.
Committee Established to Update Eureka Safety Plan
Responding to comments from CRTP and members of the public, Eureka's Transportation Safety Commission on Tuesday established a subcommittee to update and strengthen the city's anemic Transportation Safety Action Plan.
---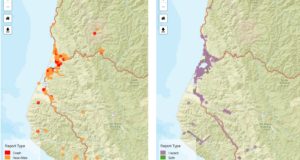 La versión en línea de Street Story ahora está disponible en inglés y español.
Local residents have reported 742 reports (and counting) on Street Story. And if you are more comfortable filling out a form in Spanish or know people who are, there's a new Spanish-language version of Street Story for you! Of course, the English-language version is still available here. CRTP uses reports to advocate for change, and local agencies use them to apply for grants and prioritize improvements. Your reports are important!
---
Dangerous by Design 2021
The biannual report on pedestrian safety was released this week. Tragically, the last decade's trend of increasing pedestrian deaths is continuing, and in many cases getting worse. There has also been little progress addressing inequities based on race, income and age. It is worth quoting part of the report at length: "Why is this happening? In a word, because state and local transportation agencies place a higher value on speed (and avoiding delay) than they do on safety. It's simply not possible to prioritize both. When faced with decisions that would elevate and prioritize safety for people walking but increase delay for vehicles, the decision-makers' true priorities are laid bare….Many states and localities have spent the last ten years focusing on enforcement, running ineffectual education campaigns, or blaming the victims of these crashes, while ignoring or actively distracting people from the role of roadway design in these deaths. States and localities must stop deploying the same playbook and expecting this trend to change—they need a fundamentally different approach to the problem. They need to acknowledge that their approach to building and operating streets and roads contributes to these deaths."
Transportation and Land Use Bills in the State Legislature
Bills CRTP is tracking include AB 122, which would legalize the "safety stop" (i.e., rolling stop) for bikes at stop signs; SB 9, which would basically end single-family zoning by allowing increased density in single-family zoned areas; AB 1401, which would prohibit local governments from enforcing minimum parking requirements in walkable areas and near transit; AB 43, which would make it a little easier to keep speed limits low; and AB 117, which would provide a subsidy for e-bikes.
Huffman Reintroduces Postal Service Electric Vehicle Bill
Our North Coast Congressman has been working toward electrifying the postal service's national vehicle fleet for some time.
$30 Billion for Transit Stayed in COVID Relief Bill
Much needed operational support, and some capital support, will be coming soon to the nation's transit agencies. Or at least most of them.
---
The Collector is CRTP's weekly transportation news roundup, published every Friday. We focus on North Coast news, but we also include relevant state, national and international transportation news – plus other items that we just find kind of interesting! To submit items for consideration, email colin@transportationpriorities.org.