The Collector



January 20, 2023
---
Tragic Crashes in Arcata and Eureka
We grieve the loss of community member and Cal Poly Humboldt student Camile Nauta, and we hope for a full and speedy recovery for the other student injured in this week's crash on Alliance Street in Arcata, as well as the person seriously injured on Broadway in Eureka Thursday night. Sometimes crashes like these can seem random and unavoidable. But they're not. The steady drumbeat of injuries and deaths makes it abundantly clear that these are not "accidents." They are the result of choices made by traffic engineers, planners, elected officials, automakers, and drivers.
At the local level, almost every serious crash could be either avoided or ameliorated by road design that actually prioritized safety over driver speed and convenience. So why do we not have these designs already? Why do local officials not at least react to tragedies like these by immediately implementing measures to keep the same thing from happening again? (We can make it almost impossible to drive fast and, yes, even create barriers to protect sidewalks from drivers veering into them!) The sad answer is that we're just doing things the way we've done them for several generations, and decision-makers haven't yet felt the pressure required to change things. Applying that pressure is one of the reasons CRTP exists. And you can help. Contact your local officials today and insist that they take immediate action to improve safety on our streets – no matter what effect it has on the commute times or convenience of people driving.
This week, Eureka took a big step and adopted an official Complete Streets Policy that should improve street safety over time. But that didn't stop the crash on Broadway, and Arcata's Complete Streets Policy (adopted last year) didn't prevent the crash on Alliance. This week's events are a reminder that policies, while important, are not enough. We need to see change written in asphalt and concrete on the streets. And we need it now.
First Details of Gateway Area Zoning Code Released
This week, Arcata city staff published proposals for some of the requirements they'd like to include in the form-based zoning code meant to implement the Gateway Area Plan, focused on building appearance but also relating to some topics important to bike and pedestrian comfort and safety, like driveways and garages. The proposals were discussed at a public workshop Thursday night, and a new survey is now available to get broader public input. Click here to take the survey now. You can also attend next Tuesday's Planning Commission meeting, where discussion of potential community benefits from the Gateway plan will continue. CRTP is a strong supporter of the draft Gateway plan, and your input is critical to ensure that the final plan and zoning code continue to fulfill the promise of bike and pedestrian-friendly infill development.
Arcata Projects on California Transportation Commission Agenda: Good, Bad and Ugly
At next week's statewide meeting, Commissioners are slated to accept environmental documents and approve a funding allocation for the long-awaited trail connecting the Sunset neighborhood with Valley West and the Mad River pump station. That's good! But they are also set to approve funding for adding an "auxiliary lane" to Highway 101 between Highway 299 and Giuntoli Lane, despite Arcata's longstanding policy against adding auxiliary lanes to the highway. New lanes both create greater hazards for pedestrians – many of whom use the highway at great peril because they have no other option – and encourage more driving. That's bad. And the Commission also will consider more funding to remove encampments of unhoused people sheltering under highway bridges in Arcata without providing anywhere else for them to go. That's ugly and inhumane.
Also at next week's meeting, local advocate and CRTP Board Member Peggy Martinez will make a presentation to the Commission on how to support public participation by people with vision impairments. We're extremely proud of Peggy's work and her membership on the new statewide Equity Advisory Committee for transportation.
---
Make reporting on Street Story part of your routine.
If you're out walking, biking, or rolling on local streets, you see hazards and experience near-misses pretty regularly, maybe even every day. Make it a habit to report those things on Street Story. Your reports help us advocate for safer streets, and help government agencies get funding for improvements. La versión de Street Story en español está disponible aquí.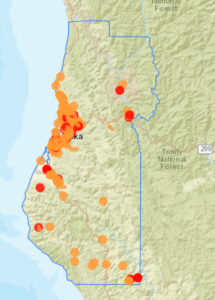 ---
News from Beyond the North Coast
$200 Million Less for Walking and Biking?
Last week we told you about Governor Newsom's proposed budget cuts for transit and zero-emission vehicles. Well, he's also proposing cuts for bike and pedestrian projects. These projects already get a pittance compared to highway funding, and the proposed cuts are proportionately much greater.
More Money Found for Statewide E-Bike Rebate
The details of the program are starting to take shape, and hopefully rebates will be available before too much longer.
No More Costly, Unscientific Parking Mandates!
The parking reform movement is picking up steam across the country.
---
The Collector is CRTP's weekly transportation news roundup, published every Friday. We focus on North Coast news, but we also include relevant state, national and international transportation news – plus other items that we just find kind of interesting! To submit items for consideration, email colin@transportationpriorities.org.