The Collector



February 10, 2023
---
Cal Poly Humboldt Students Rally for Accessible, Affordable Housing
A lack of transportation options is one of the big concerns for students, who face a daunting off-campus housing market. Although it will not solve the immediate housing crunch, the Gateway Plan and other infill development efforts will eventually put significantly more housing within walking and biking distance of campus – and that's one of the reasons we support it. (Note: the Arcata Planning Commission will hold a special meeting on the plan this Saturday, and will likely take it up again at their regular meeting next Tuesday.)
We also support building new student housing on campus, particularly on some of the university's extensive parking lots, as other universities around the country are doing. Many more students than cars can be housed in the same limited space, and on-campus housing mitigates the perceived need for students to bring cars in the first place.
Rob Arkley: Free Car Storage More Important Than Walkable Housing
Declaring that parking spaces, not people or homes, are the "lifeblood" of a thriving downtown, Eureka's part-time resident billionaire is once again trying to threaten, insult and bully the city into abandoning plans for walkable infill development. We strongly disagree with Mr. Arkley, and there is no empirical basis for his claim about the primary importance of parking. In any case, independent analysis has shown that downtown Eureka has plenty of unused parking. We also take issue with Arkley's professed concern for the safety of his employees having to walk a few blocks past other Eurekans to get to work, despite abundant evidence showing that injury and death are far more common behind the wheel than from any other form of violent crime.
Planning Continues for Crescent City Transit Hub
Local officials seem to have finally decided which of the city's many parking lots will house the future hub. CRTP is just excited to see public transportation options improve in a severely underserved part of our region, and we are supporting a grant application that could fund the project.
Humboldt County Faces Potential Budget Shortfalls
When road budgets are tight, bike, pedestrian and other safety projects are typically the first things to be cut. So local officials may need a reminder that providing safe facilities for people who are walking, biking, rolling and riding the bus is just as much a "core service" as filling potholes – and that it's a good investment, too! For example, a new economic analysis projects that the future Great Redwood Trail will generate over $100 million in economic benefits for our region.
Indianola Interchange Construction Will Begin Soon
This project, decades in the making, is intended to improve safety on the notorious Highway 101 corridor between Arcata and Eureka. We continue to advocate that Caltrans be sure not to negate any actual safety benefit by raising the speed limit again when it's complete.
---
Walk, bike, roll, Street Story.
If you're out walking, biking, or rolling on local streets, you see hazards and experience near-misses pretty regularly, maybe even every day. Make it a habit to report those things on Street Story. Your reports help us advocate for safer streets, and help government agencies get funding for improvements. La versión de Street Story en español está disponible aquí.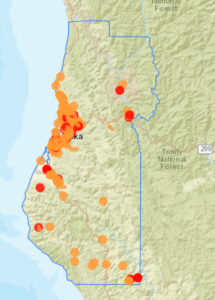 ---
News from Beyond the North Coast
"Moving from Cars to People"
A new comic book provides a good introduction to the history of cars in American communities – and what's happening today to challenge their dominance.
Nope, Parking Garages Aren't the Solution
As Cal Poly Humboldt plans to build our region's first parking structures – which would be a huge mistake in our opinion – cities around the country are struggling to figure out how to get rid of the garages they built decades ago.
New Federal "Mega-Grant" Program Is a Mixed Bag
Some important multimodal safety projects are being funded – but so are some massive highway expansion boondoggles.
---
The Collector is CRTP's weekly transportation news roundup, published every Friday. We focus on North Coast news, but we also include relevant state, national and international transportation news – plus other items that we just find kind of interesting! To submit items for consideration, email colin@transportationpriorities.org.