The Collector
February 7, 2020
---
Transportation is Key to Medical Care on the North Coast
The possibility of losing obstetrics and gynecological services in Fortuna highlights the importance of transportation and relative location in access to care.
Luckily, We're Not Made of Sugar
CRTP's latest article in the EcoNews takes on active transportation in the rainy season.
2nd District Supervisor Candidates on Transportation
Well, whaddaya know? The local press is reporting what candidates said about transportation and greenhouse gas emissions.
Watch the Full 1st & 2nd District Candidate Forum
The full video – including the answers and non-answers candidates gave to CRTP's question about reducing vehicle miles traveled – is now available to watch online.
Great Redwood Trail Takes Another Step Forward
A new segment of the Great Redwood Trail – the first since the former North Coast Railroad Authority right-of-way officially gained that moniker – opened last week in Ukiah. This is just the beginning, folks!
Weekly Street Story Update: Multimodal Hazards
About a quarter of Street Story reports in Humboldt County so far have reported places that are hazardous for multiple modes. A report near Willow Creek gives an example: "No posted speed limit. Should be 25mph max. Blind curves and too much speed. A very frequent problem. This section is on a cliff above the river. I have almost been run off over the cliff or had someone else swerve at high speed to miss me and almost go over the edge. Should be posted at 25mph and patrolled periodically to slow drivers down. It is also dangerous for pedestrians for the same reasons." You can make your own Street Story report here.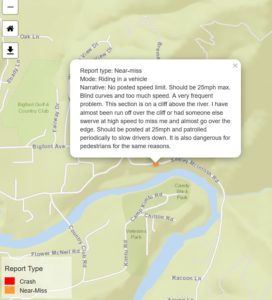 Zero Traffic Fatalities Task Force Issues Final Report
The official statewide task force recommends making it easier to lower speed limits and improving road design, education and enforcement. Will the state legislature actually listen this time?
Your Chance to Go to Walking College
America Walks is now taking applications for its "Walking College." If you want a deep dive into pedestrian design and advocacy, this is your chance!
San Francisco Chronicle Bike Lane Hit Piece Pits Teachers Against Bicyclists
If this is any indication of how journalists are going to report on a shift to less car-oriented infrastructure, we're in real trouble.
---
The Collector is CRTP's weekly transportation news roundup, published every Friday. We focus on North Coast news, but we also include relevant state, national and international transportation news – plus other items that we just find kind of interesting! To submit items for consideration, email colin@transportationpriorities.org.