The Collector
March 27, 2020
---
CRTP and Partners Submit Letter About Broadway Improvements
Addressing the current planning effort for the corridor, the letter calls for specific, immediate improvements for pedestrians, bikes and transit to tackle the safety crisis on Broadway.
Humboldt Transit, Heroically, Keeps on Busing
All Humboldt Transit Authority buses – including Redwood Transit, Eureka Transit, Willow Creek and intercity services – continue to run on their normal schedule. To protect passengers, frequent cleaning and social distancing are in force. To protect drivers, passengers enter the rear door of the bus and skip the fare box. HTA deserves high praise for keeping this essential service running for free, while still looking out for the well-being of drivers and riders. The Arcata-Mad River Transit System is also still running, although on a reduced schedule.
Transit Gets $25 Billion in Stimulus Package
The fight isn't over yet, but it appears that the $2 trillion legislation will include a significant amount to rescue beleaguered transit agencies around the country. This money wasn't on the table initially, so if you called your representatives and said something, go ahead and pat yourself on the back.
Tell the State that Bike Shops Are Essential
Our friends at Calbike are calling on the state to designate bike repair as an essential service, in recognition of the fact that many people rely on bikes for essential travel. As we reported last week, car repair shops and gas stations have been considered essential, but bike shops generally have not (except in San Francisco).
Zagster Suspends All Rentals
Although it appears that no local announcements have been made, Zagster's corporate website has a statement dated Thusday, March 26, that all bike rentals have been suspended as a result of the pandemic. Previously, they had been advising users to disinfect bikes before and after use.
Creekside Homes Project to Be Considered by Council Next Week
The big development with both single-family homes and senior housing is currently scheduled to be considered by the Arcata City Council at its (virtual) meeting next Wednesday. You can read CRTP's comments on the project here.
Airport Spreads Virus, Stays Open
Please don't fly anywhere unless you really need to.
Weekly Street Story Update: Yield to Bikes in Cutten
This report will sound familiar to many bicyclists: "Drivers rarely make complete stops at this 3-way, regardless of cyclists right-of-way…. constant problem." Are you encountering street hazards, near misses, or collisions as you walk or bike for your shelter-in-place exercise, or as you make your way to an essential service job? You can make your own Street Story report here.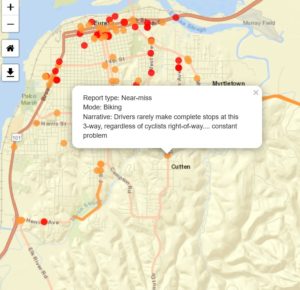 State Parks Close to Vehicles to Enforce Social Distancing
But you can still walk or bike there! Following all local rules, of course, and staying 6 feet apart.
Will the Pandemic Set Back the Electric Vehicle Revolution?
EV sales have dropped far more quickly than sales of gas-guzzlers.
Congress Clashes Over Bailouts for Dirty Transportation
Airlines and cruise ships are known as mega-polluters. Will there be any strings attached to federal rescue funds? The answer is not yet clear.
Packages Aren't Teleported to Your Door
The impacts of ramping up online shopping through Amazon and other behemoths are felt acutely by marginalized communities near shipping and distribution hubs.
---
The Collector is CRTP's weekly transportation news roundup, published every Friday. We focus on North Coast news, but we also include relevant state, national and international transportation news – plus other items that we just find kind of interesting! To submit items for consideration, email colin@transportationpriorities.org.