The Collector



July 7, 2023
---
Arcata Planning Commission to Vote on Gateway Recommendations
Next Tuesday, after more than 18 months of review, the Commission is slated to make its preliminary recommendations to the City Council on the Gateway Plan, Gateway zoning code, and other General Plan updates. This has been a long and sometimes confusing process, and it's not over yet. Still, next week's vote by the Planning Commission represents one of the key decision points for shaping future land use and transportation in the Gateway Area and the rest of Arcata.
CRTP has been a strong supporter of the Gateway Plan since the beginning. It provides for denser, walkable development focused on allowing car-free and car-light living. The Gateway zoning code implements this vision for the Gateway Area, and the updated General Plan extends many important elements to the city as a whole. And in recent months, at CRTP's urging, the Planning Commission has made even more improvements to the plans and codes. For example, the Commission has voted to completely eliminate costly parking mandates in the Gateway Area and consider eliminating them citywide, to deprioritize congestion management in favor of slower and safer streets, and to increase long-term bike parking facilities. Taken as a whole, this package of plan and code reforms represents a huge step forward for Arcata, and we're excited to see it move toward implementation.
Have Your Say on Eureka's Coastal Land Use & Bike Plans
As we mentioned last week, Eureka's draft Coastal Land Use Plan covers the city's entire coastal zone, while the Waterfront Specific Plan focuses on Old Town, the Library district and surrounding areas. Not only are both plans now available for review, the Eureka Planning Commission will be taking public comment on the Waterfront Plan on Monday. If you're wondering what to say, check out CRTP's recent comment letter for inspiration.
In other Eureka planning news, the city has now kicked off development of its official Bike Plan. A public survey to inform the plan will be available soon, and you can sign up here to receive the survey by email when it's ready.
First Official Chance to Comment on Port Development Plans
The Humboldt Bay Harbor District is preparing to develop an Environmental Impact Report for its port development plans (meant to serve offshore wind and other industries). You can comment now by email, or attend the public scoping meeting next Wednesday at 5:30 pm at the Wharfinger Building in Eureka.
As CRTP and allies have already said many times, it's critical that the port be developed with zero-emission technologies in order not to exacerbate climate chaos and to avoid imposing the heavy pollution burden suffered by other port communities. In anticipation of a significant increase in heavy truck and car traffic, we also think it's important to provide safer bike and pedestrian infrastructure on the Samoa peninsula (and along other associated truck routes), and to implement programs that encourage port business employees not to drive alone to work.
---
Street Story Reports Help Us Advocate for Safer Streets
When we are advocating to improve a plan or project, we frequently look at the Street Story map to see what people have reported. Your reports give us better information about the need for safety improvements! So don't forget to make a report every time you experience a near-miss, a crash, or a hazardous location. La versión de Street Story en español está disponible aquí.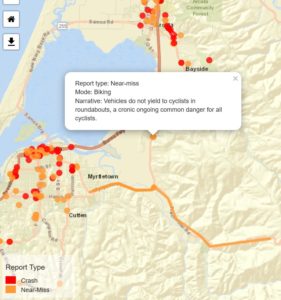 ---
News from Beyond the North Coast
Responsible Transportation Bills Coming Up for Senate Committee Vote
Next week in Sacramento, the Senate Transportation Committee will vote on a number of important bills, including the long-awaited measure legalizing the bike "safety stop," a proposal to ban parking near most crosswalks to improve safety and visibility, and a pilot program to provide free transit passes for kids.
One key bill that advanced in the Senate this week was AB-1317, which would require most rental properties to "unbundle" parking and residential rents – that is, to charge separately for homes and parking spots. Unbundling is an important equity measure, because it allows lower income people who don't own cars to pay lower rents (and not subsidize parking for people who do drive). CRTP has been advocating for unbundling in local projects for many years, and we're excited that it may soon become the rule statewide.
Active Transportation Funding Saved
After a lot of budget negotiation drama, funding for California's primary bike and pedestrian infrastructure program has been restored to previous levels. We're grateful, but we also note that even when "fully funded," the need has always been much greater than the funding.
---
The Collector is CRTP's weekly transportation news roundup, published every Friday. We focus on North Coast news, but we also include relevant state, national and international transportation news – plus other items that we just find kind of interesting! To submit items for consideration, email colin@transportationpriorities.org.