The Collector



September 1, 2023
---
Draft Humboldt County Transit Plan Available for Review
The Transit Development Plan lays out recommendations for improving the county's transit systems over the next five years. There's a lot to be excited about in the draft plan, including recommendations to add express buses between Arcata and Eureka, reinstate Sunday service, add a new bus route in Arcata, and pilot on-demand "microtransit" services to complement existing buses in McKinleyville, Arcata, Eureka and the Samoa peninsula. However, we think the plan needs to be even more ambitious to meet critical climate and bus ridership goals. For example, the draft plan doesn't address the core community demand to provide buses every 15 minutes between McKinleyville and College of the Redwoods, the corridor that comprises the backbone of the regional transit system. Read CRTP's full comments on the draft plan here, and submit your own by next Tuesday to have them considered by the Humboldt County Association of Governments.
Pro-Parking, Anti-Housing Initiative Backers Submit Signatures in Eureka
It turns out that if you have basically unlimited money to pay signature gatherers and create slick marketing full of lies and half-truths, it's not that hard to get something on the ballot in a city the size of Eureka. Supporters of walkable housing and better public transit are now turning their efforts toward advocating for a "no" vote next spring. If this initiative passes, it will put hundreds of units of walkable, affordable downtown housing in jeopardy, along with a much-needed (and already funded) downtown transit center.
Will Old Fortuna Mill Site Development Contribute to Suburban Sprawl?
The owners of the site are actively trying to attract businesses for redevelopment. We like the idea of reusing old mill sites, but we are concerned that the plans proposed for this site show retail and industrial buildings surrounded by a sea of parking, apparently meant to attract people to drive all the way from Eureka, Arcata, and even McKinleyville. Make no mistake, this would be a project with major regional impacts, and we'll be watching to see how it develops.
Now You Can Take the Amtrak Bus to Lots of New Places!
The Amtrak "Route 7" bus has long served the North Coast, offering connecting service to trains in the Bay Area. But now you can take the bus between any of its North Coast stops – including places like Garberville, Willits, Ukiah, and Santa Rosa – without a connecting train ticket! This change is a big step toward easier regional travel without a personal vehicle.
---
Street Story: A Simple Way to Contribute to the Fight for Safe Streets
Reports on Street Story only take a few minutes, and they give CRTP and local government agencies better information about the need for safety improvements. So don't forget to make a report every time you experience a near-miss, a crash, or a hazardous location. La versión de Street Story en español está disponible aquí.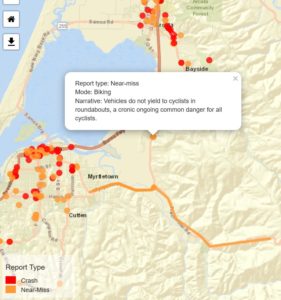 ---
News from Beyond the North Coast
Older Adults Are Particularly Vulnerable in Car Crashes
And a new report finds that some places in California have particularly high rates of fatal and serious injuries among seniors. Unfortunately, but unsurprisingly, several parts of the North Coast are on the list.
Drug Testing Reform Could Help Alleviate Bus Driver Shortage
Transit agencies both here on the North Coast and across the country are struggling to find enough drivers. One obstacle has been federal drug testing requirements that essentially prohibit drivers from using cannabis – even when they're using it legally, are off the clock and come to work sober. New rules could help change that.
---
The Collector is CRTP's weekly transportation news roundup, published every Friday. We focus on North Coast news, but we also include relevant state, national and international transportation news – plus other items that we just find kind of interesting! To submit items for consideration, email colin@transportationpriorities.org.