The Collector



April 9, 2021
---
CHP to Increase Enforcement on Crash-Prone Highway 101
We appreciate the Highway Patrol's recognition that this is a dangerous highway, but we have strong reservations about enforcement as a solution. Long experience has shown that traffic enforcement disproportionately affects people of color and isn't that effective at reducing crashes over the long term.
Local Active Transportation Expert Hired for Key Position at City of Arcata
Redwood Community Action Agency Natural Resources Director – and friend of CRTP – Emily Sinkhorn has been named Arcata's new Environmental Services Director.
Yep, Eureka's Getting That Safety Money!
More on the story we highlighted last week.
Eureka Renovators Want to Provide Less Parking
Of course, we support this request made by the Bells to the Eureka Planning Commission. Less parking means less of a subsidy for driving. We just wish they weren't reducing the number of residential units at the same time.
Railbanking Spat Continues
Memo to TRANSDEF (whoever they are): People who live up here actually want this corridor to be developed as a trail.
Humboldt County to Get Service from New Budget Airline
The cheapest way to maximize greenhouse gas emissions while you travel.
---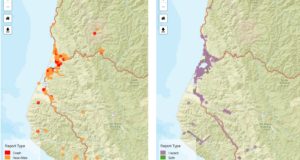 Make your Street Story reports!
Local residents have reported 747 reports (and counting) on Street Story. La versión en español está disponible aquí. CRTP uses reports to advocate for change, and local agencies use them to apply for grants and prioritize improvements. Your reports are important!
---
Biden Wants to Eliminate Exclusionary Zoning
And other critical but under-reported features of the American Jobs Plan.
How Can We Lower Transportation Emissions Without Worsening Inequity?
A debate is raging in the Northeast.
E-Bike Incentive Bill Unanimously Passes Assembly Committee
But its legislative journey is far from over.
NTSB Adds Bike and Pedestrian Safety to Its Priority List
The National Transportation Safety Board doesn't have much of a track record of focusing on non-vehicular road users. To bring themselves up to speed (or, hopefully, down), they might want to check out this overview of the laws and regulations that systematically make our streets more dangerous.
---
The Collector is CRTP's weekly transportation news roundup, published every Friday. We focus on North Coast news, but we also include relevant state, national and international transportation news – plus other items that we just find kind of interesting! To submit items for consideration, email colin@transportationpriorities.org.