The Collector



June 23, 2023
---
Richardson Grove Project Back In Court…And You're Invited!
Our friends at EPIC are back in court next week, still working to stop a highway expansion through Richardson Grove State Park more than 15 years after Caltrans first proposed it. CRTP has opposed this project since our founding in 2015. It's a prime example of what we should not be doing: spending millions to design roads for the biggest fossil fuel-burning trucks rather than prioritizing projects that improve safety and access for people walking, biking, rolling and riding the bus. If you agree, you can go to the Humboldt County Courthouse at 10:15 am on Monday and show your support!
Arcata's Commitment to Complete Streets is Tested
Last year, the Council adopted a Complete Streets Policy that requires all city street projects to include safe facilities for users of all ages and abilities, including people walking and biking. On Wednesday, the city's commitment to this policy was tested.
On the Council's agenda was the annual paving project, which includes repaving parts of H Street – including the block of this heavily trafficked thoroughfare (between 17th and 18th Streets) where the bike lane just disappears into a parking lane. Instead of fixing this longstanding issue as the Complete Streets Policy requires, however, the proposal was to leave the situation basically unchanged. The reason: city staff decided that maintaining 8 parking spaces was more important than ensuring a safe and uninterrupted bike network.
CRTP objected strenuously to this plan, calling for the city's policy to be followed and the bike lane completed. After all, this is a street with four lanes for cars – two for driving and two for parking – and, on this particular block, no space at all for bikes. There is no world where that's a "complete street."
After some discussion, the City Council decided to put off a decision to a future meeting. We're very glad they didn't rubber-stamp the proposed design with no bike lane, and we're hopeful that they'll eventually make the right decision. But we're also disappointed that this is even an issue. The point of the Complete Streets Policy is to take opportunities like this repaving project to improve facilities automatically and inexpensively, rather than waiting for future funding to do stand-alone projects. If implementing the policy requires a debate every time, it's not much of a policy.
Gateway Zoning Code at the Planning Commission Again
At their last meeting, the Arcata Planning Commission heard introductory presentations about the draft code. Next Tuesday, we expect them to actually weigh in on the substance. If you want to have your voice heard, you can email the Commissioners or attend the meeting. For ideas about what to say, check out CRTP's detailed comment letter.
State Transportation Commission to Allocate Funds for Crescent City Project
The Front Street pedestrian improvement project has been planned for a long time, and we're excited to see that it will finally get some state funding. The Commission will also allocate funds for a number of other North Coast projects next week, including extra money to add lighting and landscaping elements to the South Broadway Complete Streets Project in Eureka.
---
Street Story Reports Help Us Advocate for Safer Streets
When we are advocating to improve a plan or project, we frequently look at the Street Story map to see what people have reported. Your reports give us better information about the need for safety improvements! So don't forget to make a report every time you experience a near-miss, a crash, or a hazardous location. La versión de Street Story en español está disponible aquí.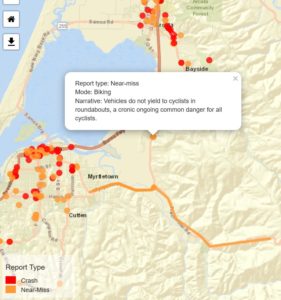 ---
News from Beyond the North Coast
More Money Needed for E-Bike Incentives
If the state doesn't put more money in the budget, funds for the e-bike program will run out very quickly. Another priority for California bike advocates this week: rallying support for a bill to ban parking within 20 feet of crosswalks to improve visibility and save lives.
"How Parking Explains the World"
Check out the latest interview with Henry Grabar, who has been getting a lot of well-deserved attention lately for his new book about the insidious impacts of parking policy on almost every aspect of our lives.
---
The Collector is CRTP's weekly transportation news roundup, published every Friday. We focus on North Coast news, but we also include relevant state, national and international transportation news – plus other items that we just find kind of interesting! To submit items for consideration, email colin@transportationpriorities.org.